Awesomeness Is™ Lowell Board Game
A fun filled, exciting game of touring historic Lowell, Massachusetts visiting historic sites, local businesses & collecting souvenirs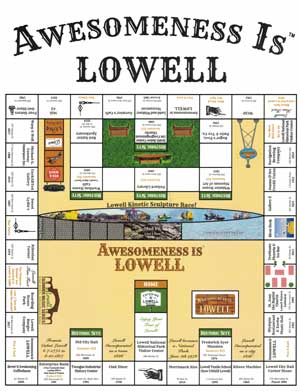 Be part of the famous Lowell Kinetic Sculpture Race, Walk through Kerouac Park, Visit Whistler's House, or Enjoy an outside concert at Boarding House Park. You can get your hands on a limited edition of this special game.
8% of the profits of this game go to support this AWESOME cause
Order Your Game!
$20.00 + $9.95 s/h anywhere in CONUS
Please allow 7-10 days for Shipping and Handling

Press Links
Makes a Great Holiday Gift!